This is Gondorio's Renaissance Kingdoms Character Family.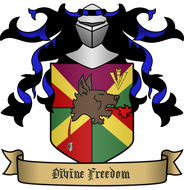 Wolfenstein Family

Founder:

Willams "Flair" Wolfenstein the first

Affiliations:

Scottish Mobs(Formerly), The Mining Vounteers Company(Current),

Occupations:

Scottish Lords(Formerly) Citizen of Glasgow and Stirling (Current)

Nicknames:

Red Eyed Wolves,Flaming Mutts

                      Williams "Flair" Wolfenstein is living in Glasgow He is seen being in the Town watch Everyday.Let's start with the History he has withehh... England Since He was raised by a Scottish Father and a English Mother.Both Nobles Married Secretly in Glasglow and raised Willams inStirling in Age 10 He Started to Help His Family ,His Dad or Father Perhaps Wanted his own son to be a Squire. Didn't work so well with so much money Someday Willams Had a message of A Job about Bandits and He Well Succeeded and Given a shield that would be useful his own coat of arms..Lion and Wolf  But Made something instead of the Lion.The Cutlass (Bottom left) is the Lion and the Arrowhead(Top Right) is the wolf,a Deadly one.
Made this at Age 18 in Glasglow in memory of his Family.  
Community content is available under
CC-BY-SA
unless otherwise noted.