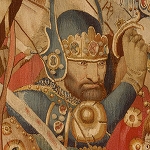 Current news
Edit
See DynV latest roles in his public page.
Memory and vision
Edit
Profile of Dynv
Edit
Information on Dynv
Edit

Born on 12 April, 2009

It's Dynv's birthday on 01 January.

Last known address
Country : Ireland
County : Cúige Chonnacht
Town : An Gort

Level : 2
Reputation Points : 255
Money : 142

Dynv is a butcher.
Dynv has one cows and one vegetable field.

Last connection le 28 May 2011

Role Play description
Edit

Late teen
Protective of his land
Church follower
Have no family known of

Town history:
An Caiseal, Munster
An Gort, Cúige Chonnacht (current)

Field history:
Vegetables (curent)
Cows (curent)

[followed by a character description (see RK profile) and preceded by a warning against OOC business transactions]
My contributions
Edit
My favorite pages
Edit
Forum topics of interest
Edit
For the following links, you might want to go on your In Game (IG) panel, on the bottom left button Forum and Rules, in the tab Access to the forum (should be in it by default) then click on the link Go to the forum with your player account ... then you'll get to the forum then go to a topic (thread) and the URL should be something like the following so you'll need to add the Session ID (sid - underlined part) to the listed links :
http://forum.renaissancekingdoms.com/viewtopic.php?t=73872&sid=FnB9znDqd8Uhtozw5WdA6PXwF
Community content is available under
CC-BY-SA
unless otherwise noted.