The Dark Horse Courier is a free English Speaking Newspaper accessable by people from the British Isles and was orginally released weekly but due to spare time was later updated when possible.
The newspaper focuses on headlines of local, national and international news though is predominantly based towards an English audience.
Roby Lambourne is the founder and head editor of the newspaper.
The Dark Horse Courier's first edition was released publically on the 4th of May, 1459 as a local newspaper for the Westmorland town of Egremont and was orginally a two page broadsheet focusing on local events.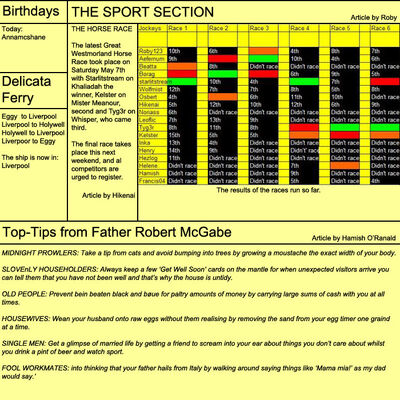 After a month of editions with one edition per week, the newspaper was stopped due to the editor being unable to provide the time.  On the 16th of June 1460, the Dark Horse Courier returned to the English speaking public domain as a multi-paged newspaper with seven pages for readers to interact with and provide feedback, this version of the Dark Horse Courier remains operational and can be found in English public places.
Organisation
Edit
The first version of the newspaper set out as a broadsheet orginally involved several topics of local news and events such as:
Headlines, adverts for local business and items for sale, local obituaries, weddings and funerals, birthdays, events and sporting events, most famously the westmorland horse reacing season and a section dedicated to random sections for requests or entertainment. 
The second version of the Dark Horse Courier provided an updated newspaper that included several orginal and new concepts such as; Headlines, politics, Entertainment, Gossip, careers, advertisments and sales and feedback.
The new layout for the newspaper meant it was much easier to read and keep up to date on specific topics that intrested the reader. 
http://i652.photobucket.com/albums/uu248/Bladeliam/5675f3f7-0414-49be-9799-2f4a465b1995_zpsc6392d05.jpg
Community content is available under
CC-BY-SA
unless otherwise noted.