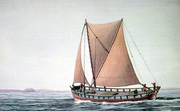 BSC Sapphire
Edit
The ship the BSC Sapphire is owned by Captain Statler and Fabian.lehague from Kirkcudbright. On the 18th of May 1461 the ship was build at the port of Barnstaple as the spitting image of the BSC Jenny Pirwin. It's maiden voyage was a trip to Brest in Bretagne.
The BSC Sapphire is a trading vessel that sails the seas.
Journey's
Edit
On May the 18th of 1461 the BSC Sapphire left the port of Barnstaple to sail to the main land of Europe. The first port it docked at was at Brest (Bretagene).
Community content is available under
CC-BY-SA
unless otherwise noted.