Salisbury is a city in Devon , England, but was formerly located in the county of Wiltshire.
Location
Edit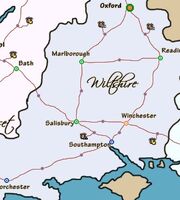 Salisbury is in the southwestern area of Wiltshire, with roads leading north to Marlborough, east to Winchester, southeast to Southampton, and west to Bath in the County of Somerset.
Salisbury replaced what was once known as Old Sarum, an earlier settlement of Salisbury
Town Map
Edit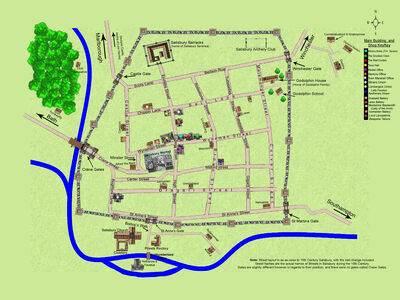 Resources
Edit
Salisbury is situated near to a Forest and therefore the local resource is wood. Salisbury also has access to an iron mine to the southeast of town.
The Dignitaries of Salisbury / Wiltshire
Edit
These are set out in order from top to bottom of incumbency
Mayors/Mayoresses
Edit
(In order of Mayorship)
Local Militia
Edit
The Town Marshall
Edit
Note: Below are those only known recently
Religion
Edit
The first Salisbury Church was built at Old Sarum by St Bishop Osmund between 1075 and 1092. A larger building was built on the same site circa 1120. However, deteriorating relations between the clergy and the military at Old Sarum led to the decision to re-site the Church elsewhere. Thus the city of New Sarum, known as Salisbury, was founded in 1220, and the building of the new Church begun by Bishop Richard Poore in that year. The current parish priest is Lord Wilb
Mass is said every Sunday morning, from 10 to 12 (GMT+1)and everyWednesday from 22 to 24Time: GMT+1 (20 to 22 GMT).
The Loaded Hog
Salisbury's Hospital
Southampton Trade Outpost #2
Mentors of Salisbury
Edit
Traders of Salisbury
Edit
Last updated 25th February 1458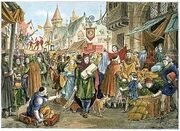 | | | | | | | | | | | |
| --- | --- | --- | --- | --- | --- | --- | --- | --- | --- | --- |
| Bakers | | Millers | | Butchers | | Blacksmiths | | Weavers | | Carpenters |
Bold = Grant Worker
Italics = Retreat
~~ = Parish Priest