Port Láirge (Waterford)

—  Town  —

| | |
| --- | --- |
| Seal | Coat of arms |

Motto: Sin City
Country
Ireland
County
An Mumhain
Resource
Lake
Province
Province of Cashel
Diocese
Diocese of An Caiseal
Established
21 March 1456
Government
 - Mayor

Aishling

 - Mentor

Catrina

Population (27 September 1458)
 - Town
210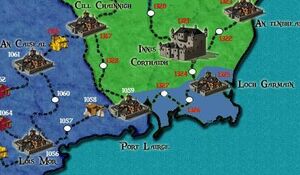 Port Láirge (in English, Waterford) is a fishing town in Ireland's county An Mumhain.
The original "Sin City"
[
]
As one of the first towns in Ireland, Waterford as it was then called was rumored to have more taverns and casinos then people. During its heyday, the town was one of the most active towns not only in Ireland, but in all of Renaissance Kingdoms. The highest count observed was 43 people in the taverns. Great leadership, a strong mentor team and the blending of just the right people created an atmosphere that any who lived in long for still today.
Rumors of illegal activities, wild drunken parties, truth or dare games, seductive dances, "Midnight Margaritas", and whipped cream wars. It all happened here. Two of the more popular taverns at that time were The Crooked Halo and The Backroom. A Bachelor/Bachelorette auction for the benefit of the town forced many to buy several allotments of tokens such was the bidding.
It was and still is the home base for many of the NNGO.
Ireland's first "attempted" murder happened in Port Láirge. Sources say Mick_ was offered a dance in payment for killing local resident Kellkiernan, While Mick_ did indeed stab the man, and most reports confirmed his demise, Kell is still alive.
This was also the sight of the first revolt in Ireland. A scoundrel from another country arrived in town while it was a colony, revolted as soon as the colony safety was off and looted the town.
Instead of taking this lying down, the residents banded together and ousted the man and his accomplices. He fled to Italy and was later dealt with by the King. The revolt marks the point where people were no longer from England, Scotland, etc they were from Waterford and would defend their home at any cost.
Unrest in Port Láirge
[
]
Sacking of Port Láirge
[
]
Anto Capone raised an army of the NNGO and used it to take control of Port Láirge 8 July 1456. This is in response to a proposed council strike.
Reports say that Port Láirge has been stripped of goods and finances to fund the army.
Mayors of Port Láirge
[
]
(Hopefully better please mail me if you think its wrong at all :D)
key; *-revolted **-sanctioned counter revolt
Aleron
Jaqk*
Thevano**
Nikci**
CCtrackstar85
Nikolit*
Buck_Mccoy(Several Terms)
Mithradates(Several Terms)
Chester_O'Farrell
Mithradates
Chester_O'Farrell(2 Terms)
Mightyjoeyoung(3 Terms)
Minyahh
Chester_O'Farrell
Skibicki
Kataya
Maripose.
Raniets