Lucrezia Maghella D'Altavilla, Norman of D'Altavilla Noble Family, is High Command member of Ordo Negrum Equites (O.N.E.) as Strategist and is also Major of O.N.E. II Brigata Amesha.
Free-spirited Amazon, fighter from an early age, she has always been engaged in military activities, regular and mercenary.
She has a special hatred for politics, because of the power and abuses thereof.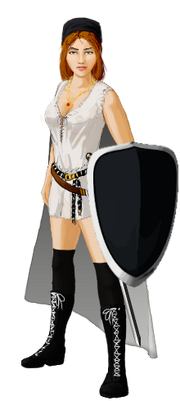 Husband: Oberto I Grimaldi, detto Illurido, Captain of O.N.E. II Brigata Amesha
Sons: Leocarlos e Seralex, Knights di O.N.E. II Brigata Amesha, Corvyn e Zanzibar74.
Daughter: Spaty.
( Italiano )
Community content is available under
CC-BY-SA
unless otherwise noted.