Louis_llewellynn

—  Hastings England  —

| | |
| --- | --- |
| Louis_llewellynn | Coat of arms |

Personal motto: Live Life to the Fullest
Full title
Duke of Dyfed

Earl of Pembroke Viscount of Scarborough Knight of the Order of the Garter

Prince of England
Place of Residence
(unknown), Hastings, Sussex
Affiliations
Llewellynn Family
In-game name
Louis_llewellynn
Account created
(unknown)
Forum name
Louis_llewellynn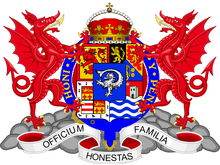 Louis_llewellynn appeared in Bridgewater on August 7th, 1456.On the 12th August, 1456 he leveled to level I and got a corn field. On the 12th September, 1456 he took up residence in Shrewsbury only to move again on the 15th of November 1456 to take up residence in Beeston. On the 18th of June 1457 he was sworn in as Baron of Beeston. In a grand achievement earned through hard work and determination on the 1st of November 1459 Louis became Lord High Admiral of the Royal English Navy. In December 1459 he was made member of 'The Order of the Garter', a noted prestige. In April of 1460 he was granted the title 'Viscount of Scarborough' and took up residence in 'Scarborough Castle'. In December of 1460 he opened a Doctors' Surgery in Lewes, Sussex. In February 1461 he opened a Doctors' Surgery in Rotterdam. On the 14th of Feb 1461 he became engaged to Humptie On the 26th of March, 1461 Louis became the "Earl of Pembrokeshire", shortly after he took possession of Pembroke Castle. He was married to Ursula_llewellynn from May the 18th 1461, until June 22, 1463. On August 14th, 1461 he was awarded the 'Grand Cross of the Order of Merit' for military service. He was the Royal Envoy to King Rothgar Kerr of England. On the 9th of August, 1462 he was invested as 'Prince of Wales'. On the 10th of August, 1462 he was Knighted by King Darien Ballintyne. On October 28th 1462 he became Duke of Dyfed.
Louis is Head of House of the Llewellynn Family. Brother to Lyskard, Eoin, Molly, Aertan, Louisa, Kazzia, Nuala, and Regina. Uncle to Anna Rose and Isabelle Faith.
The First English person to master Navigation Way
Louis is currently titled His Royal Highness Prince Louis Llewellynn.
Community content is available under
CC-BY-SA
unless otherwise noted.