Largs was the northern-most city in the county of Ayr and a fishing town. It is connected by roads to Ayr City and to the Capital of Glasgow, Glasgow City.
Implicatus became mayor following the unfortunate death of Reinhaert. He did not run for a second term and was followed on 14th August 1456 by Kyno. Kyno too served only one term.
The next mayor in office was Llyl who served sucessfull for two terms. On the 14th of November Leahandra became mayor and she served for two terms.Wizardnain was elected as the Mayor of Largs on 14th January. On the last day of her term, Dongammers revolted and ransacked the Town Hall, leaving the new Mayor Finn, elected two days later due to a run off vote in the elections, to rebuild which she did in a spectacularly successful manner. Following Finn's term, Leahandra was elected once more to serve her town.
Recent Events
Edit
Local Taverns
Edit
Largs Townhall Tavern - managed by the Town Hall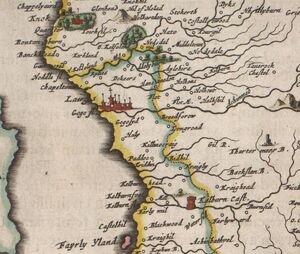 Community content is available under
CC-BY-SA
unless otherwise noted.