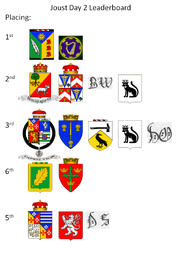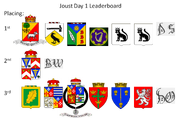 The following Joust took place in Carlisle, during the seige. While NNGO and FURY BOHICA were inside the city, the English and Irish armies (and soldiers from other countries) were outside the walls. During the long lull of the siege, a joust was called. Sixteen men and women stepped forward to entertain the masses.
Current Standings, as of 9 August 1458, are as follows:
Joust in progress
Previous standings, as of 3 August 1458:
1st Place, With 2 wins each: BenFeniks and Nivera
2nd Place, With 1 win and 1 tie: Blainewolfe, Merlyna, Donte, and Plotnik
3rd Place, With 1 win and 1 loss: Caitilin, Todryangle, Inka2, Nahren, and Dizmalus
4th Place, With 1 Tie and 1 loss: Jewbeard, and Rush_
5th Place, With 2 losses each: Draco6Slayer, Kelster, and Baldar
Previous Standings as of Day 1:
1st Place, with 1 win[7-way]: Plotnik, Todryangle, Donte, Dizmalus, BenFeniks, Nivera, Nahren
2nd Place, with 1 tie [2-way]: Blainewolfe and Merlyna
3rd Place, with 1 loss[7-way]: Caitilin, Rush_, Draco6Slayer, Kelster, Inka2, Jewbeard, Baldar
The Sixteen Participants, and their causes:
Community content is available under
CC-BY-SA
unless otherwise noted.