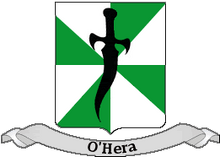 The House of O'Hera, is better known as Avis - O'Hera
History of the Family
Edit
The Avis O'Hera family was created when †Elizabeth Avis, daughter of †King Edward and †Queen Sophia of Portugal, married †James O'Hera an Irish man.
Together they had three children: †Hou, †Edward, and †Hannah
Hou married †John Liscomb and they had four children: †Grimmie, †Tiarnach, †Mousie and Alicia.
Edward married Rosalie and had three children: †Atzo, Kathryn and †Cassidy.
Atzo married Mysterie Caitlyn de L'eau and had three children: Sajjhe, Abigail (Abynate) and Neasa.
Hannah became a nun
Surviving members that bare the Avis O'Hera name
Kathryn Kathryn Elizabeth Aviz
Abynate Abigail Verena Avis O'Hera de L'eau
Alicia Alicia Rodriguez (Avis O'Hera)
† Deceased members
Hou Liscomb Avis O'Hera
Edward Avis O'Hera (head)
Hannah Abigal Avis O'Hera
Grimmie Avis O'Hera
Tiarnach (PhantomStag) Avis O'Hera
Mousie Avis O'Hera
Cassidy Avis O'Hera
Atzo Avis O'Hera
Bowmoon Avis O'Hera
PC Jr Lauzon
Haley Avis O'Hera
Star Lauzon
Rosalie O'Hera (born Appleby)
Distant family members
Titles, Estates and Holdings
Edit
O'Hera Castle in Sevenoaks - deserted -
The Restoration House-Rochester-Kent-Sussex, Deed Held by Alicia Avis O'Hera
Baroness of Rochester, Title held by Alicia Avis O'Hera
Baronet of Canterbury, Title held by Alicia Avis O'Hera
LSD- Wet Princess, Battle Cog Gifted to Alicia Avis O'Hera by the late Steqman Rodriguez
Family tree
Edit
These are all the family trees (outdated):
Community content is available under
CC-BY-SA
unless otherwise noted.