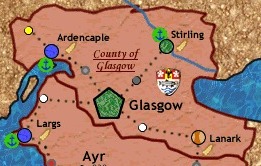 Glasgow County Information
Edit
On 27 May, 1458 Countess Angeljoy25 declared the border to Glasgow closed and any would-be traveller to Glasgow must now request permission for entry at the Glasgow Embassy. 
As of January 1462 Glasgow and Galloway were two separate Counties and not under the control of a unified Scottish government.
Towns in Glasgow County
Edit
Government of Glasgow County
Edit
Gardrick_Cantor became Duke on 18 January, 1462, replacing Monte who resigned on the 16th.
Glasgow County Council
Edit
Members of the Glasgow County Council as of January 21st, 1462. 
State
Duke - Gardrick_Cantor (SCOTS) (Replacing Monte on January 18th, 1462)
Spokesperson - Heeteepee (SCOTS)
Rector - Boomshine
Economic Branch
Judicial Branch
Military Branch
Councillor:
Vidar323 (SCOTS)
(Vacant - SCOTS, formerly Monte who served as Duke until January 16th, 1462)