Son of Anghelos and Perl., Flyguy is member of Ordo Negrum Equites (O.N.E.) and Knight of O.N.E. I Semper Et Ubique.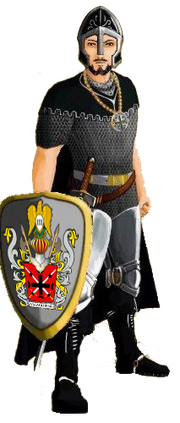 Family:
Father: Anghelos, Duke and King of Wallachia, O.N.E. Master and Commander.
Mother: Perl., Duchess of Styria (SRING).
Brother: Malius, Knight of O.N.E. I Semper Et Ubique.

Functions of Lord Flyguy:
Grand Magister
O.N.E. High Command Member
Commander:
O.N.E. III - Valahorum
Flyguy is one of the deathliest warriors in our time, his determination in battle can change the ties ... his loyalty as my son and leadership as O.N.E. brigade commander are priceless. (by Anghelos)
Visited Towns:
Ireland: Inis, Luimneach, Imleach, Lios Mor, Port Lairage, AnTinbhearMor-
Ceatharlach, Cill Chainnigh,Corcaigh
France:Treguier-France, Saint.Brieuc, Rohan, Vannes, Rieux, Poitiers, La Tremouille, Limoges, Uzes, Aix
Italy: Ventimiglia, Genova, Alexandria, Savona, Piacenza, Parma, Verona, Treviso, Udine, Venezia, Mantua, Guastalla, Modena
Croatia: Rijeka, Vrbovsko, Dubovac
Germany: Marburg an der Drau
Bulgaria: Vidin, Lom, Koutlovitsa, Vratsa, Lovech, Veliko Turnovo
Romania: Rosiorii de Vede, Slatina, Pitesti, Targoviste, Targsor, Curtea de Arges, Campulung
Personal List of Killed People:
1.Flegman
2.Ricchard
3.Shpanda
4.Mikhaila
5.Soulbourne
6.Evan_escence
7.Holabar
8.Maire
9.Thoryk
10.Gomez2
11.Egamo
12.Viery
13.amleto
14.Tisdale
15.Nasruddin
16.Valefor
17.Ladykiller
18.Cobhbhoy
19.Koki123
20.Maillot
21.Saelav90
22.Soup
23.Fred64
24.Neda
25.Sousou1
26.Etrusco
27.Antioche
28.Bang
29.Josto
30.Cochise
31.Elein
32.Pafkata
33.Sglower
34.Krokodila
35.Cata_cata986
36.Gionibigud
37.Tenitas
38.Ivan_slavkov
39.Angua
40.Pipito
41.Kiaramia
42.Heavy1914
43.Mitaka_hd
44.Blackfenix
45.Melinor
46.Angelika525
47.Radoboy
48.Marians_78
49.Klausi
50.Gondjo
To be continued...
Community content is available under
CC-BY-SA
unless otherwise noted.