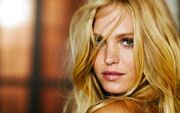 Lady Felicia
Märta Jönsson Oxenstierna of Holywell
commonly known as
Felicia Johnson
(born on 5 July 1444)is the only daughter of
Nils Jönsson Oxenstierna
and Lady Karin of Gumsehuvud-Sture. She was born at Nykoping in Swedan. Upon, the assassination of her parents, she fled to Holywell in England, Where she was adopted by her uncle
General Varana
Jönsson
Oxenstierna,Viscount of Clitheroe
and Her wife
Baroness Giovanna
Ricco Adams Jönsson Oxenstierna.
Early life
Edit
She is born at Nyköping Castle and and was named after her grandmother Lady Märta Finvidsdotter.She is the only child of Nils Jönsson Oxenstierna born in wedlock to survive infancy. Her mother was Nil's third wife Lady Karin of Gumsehuvud- Sture.
When Felicia was six years and eight months old, her father was assassinated. Two years later, her mother died from a mysterious sickness, probably poison. She fled to Holywell with a servant name Harold Magnusson, where she was adopted by her uncle, General Varana of Westmorland, and his wife, Lady Giovanna.
Personal life
Edit
She is engaged with Nickolson Phoenix Sforza since May 1461, She is baptized by Father Henry on 29 April 1461 in Church of Holywell. She acquired her baronetcy during regentcy of Princess Patan
Johnson's Pub and Pizzeria
Edit
Johnson's Pub and Pizzeria is a tavern building located in Holywell. It was founded by Felicia Johnson, her brother Lee, and her fiancé Nickolson.
on 17 June 1461, Felicia closed Johnson's Pub and Pizzeria on request of Town mayor Tyg3r
Office and duties
Edit
Community content is available under
CC-BY-SA
unless otherwise noted.