Faheud of Brighton

—  Lewes Lewes  —

| | |
| --- | --- |
| Faheud of Brighton | Coat of arms |

Personal motto: Unity
Full title
His Royal Highness, the Undoubted King Faheud the First of England, Earl of Horsham, Baron of Westgate and Guardian of the Hospital of St. Thomas
Place of Residence
(unknown), Lewes, Sussex
Affiliations
(unknown)
In-game name
Faheud
Account created
August 20 2006
Forum name
Faheud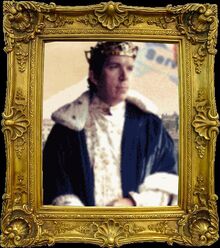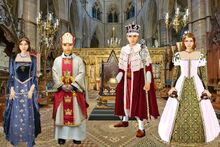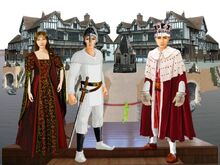 Faheud is a resident of Lewes, Sussex.
King of England Summer 1459-Winter 1460
Count of Sussex, Spring 1459
Baron of Westgate and Guardian of the Hospital of St. Thomas
Earl of Horsham
6 terms on Sussex Council (Judge, Count, Mines, Constable, Sergeant)
2 terms Sussex Court of Appeals and 1 term as Chief Justice
Speaker of Parliament, Spring 1459
3 terms Mayor of Hastings
Priest of Lewes
Priest of Hastings
Bishop of Brighton
Archbishop of Canterbury
Bishop Vice Primate (3 terms)
Archbishop of Southwark
Cardinal Primate of the United and Roman Aristotelian Church of England, Scotland, and Ireland (URAC/URACESI)
Royal History
Edit
King Faheud is well known for taking England from 3 war-ships to 18 in a six month span at no cost to the English taxpayer. During his tenure Arsenal Ports were completed in Chard, and Holywell, with Lewes nearly completing. The King traveled across the land, bringing workers in his army and entourage to help complete ports. Many a day passed, with the King of England working alongside the rest, building the ports/. The King, it would seem was quite the accomplished Carpenter.
Making over 8,000 public speeches (posts) in six years in the realms, he may have been one of England's most prolific writers. A Miracle (Silencing the False Admiral Rebecca) by speaking a single word (truth) was attributed to him in 1458 A second Miracle (Getting Cullan to wear clothes) was attributed to him in 1459 A third Miracle (the transformation of Sergitov) was attributed to him in 1459 King Faheud was never known to suffer fools gladly unless their name was Pocket
King Faheud had two Heirs, first Admiral Tazatron from July-August 1459. The Second Heir was Her Grace, Dame Ghostwriter Rood, Princess of Wales, August 1459 - January 1460.
King Faheud was the first English Monarch to establish, engage, authorize, and maintain a Special Services Intelligence branch--which branch performed public and covert duties in towns and counties across Europe.
The Reign of Faheud was marked with many strides forward in both National Unity and Empowerment of the Counties. In more speeches than many would like to remember, in numerous venues, the King declared that Strong Towns made Strong Counties...and Strong Counties make a Formidable Kingdom.
King Faheud decreed near the end of His Reign a Council of English Commons, where an elected representative from every Town in England and every County would advise the national institutions and the Crown on their concerns and needs.
Turns out he was right.
King Faheud, when asked in his latter days what he felt his greatest deed was, stated boldly, "Elevating the Order of Saint George to Masters Honors and Knighting Sir Roby and Dame Jasmine with the spurs of Falcie and Umberlee and Swords forged and blessed in Damascus and Rome."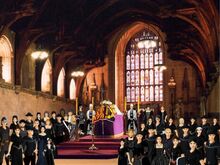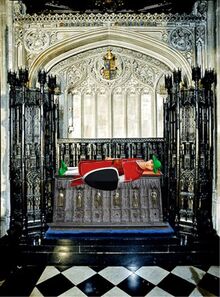 Community content is available under
CC-BY-SA
unless otherwise noted.