Dry WhiteSnow

—  Stirling Glasgow  —

| | |
| --- | --- |
| Dry WhiteSnow | Coat of arms |

Personal motto: ...
Full title
Dry Whitesnow of that Ilk, Chief of Clan WhiteSnow
Place of Residence
(unknown), Stirling, Glasgow
Affiliations
Clan WhiteSnow
In-game name
Dry
Account created
6-August-1454
Forum name
Dry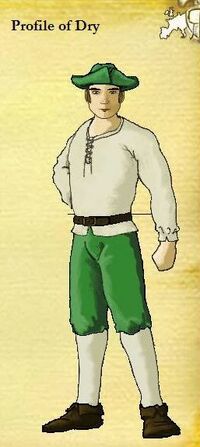 Clan Information
Edit
Dry WhiteSnow is the Clan Chief of Clan WhiteSnow.
Player Information
Edit
Born on 06 August, 2006
Last known address:
Country : Kingdom of Scotland
Town : Stirling
Level : 3
Reputation Points : 255
Dry is a butcher.
Dry has one vegetable and one corn field.
Offices Held
Edit
Political Affiliations
Edit
(February 1458) Chief Candidate - Thieves & Mercenaries (ROGUE) Council List - Glasgow (Dry, Kelley, Archfiend_sinister, Nameisis, Cheatley, Seldomseen, Tosher, Lafea, Thogthebarbarian, Angeljoy25, Lastcrusader, Jasmyne). The list won with 100% of the vote.
IX.XIV/WC/PB/F.CCXCVI
X.XXXI/WC/PB/J.III
I.XXV/WC/PB/J.IV
IV.XVIII/WC/PB/DS
V.X/SC/PB/J.X & F.M
VII.IV/WC/PB/F.X & J.VI (2/6)
VII.VI/WrC/PB/DS
VII.X/WC/PB/F.XX & J.VI
VII.XXX/WC/PB/DS
I.XXVIII/LnC/T/F.M
III.IV/RdA/F/J.I
III.IV/RdA/T/J.III
III.XI/RdA/T/J.III
III.XVIII/RdA/T/DS
IV.XXVIII/GLW/PB/J.III & F.CC
VI.XXVI/AYR/PB/F.XXV
VI.XXVI/AYR/PB/J.VI & F.CL
VII.X/AYR/PB/F.LX
VII.XV/AYR/PB/F.CC
VII.XVI/AYR/PB/J.VI.F.C
VII.XXVII/AYR/PB/DS
VIII.IV/AYR/PB/F.CC
IX.XIV/GSG/PB/F.CI
IX.XXX/GLW/PB/J.III
X.III/GSG/PB/F.MDXXX
X.III/GLW/PB/J.VI
X.VIII/GLW/PB/J.VI
X.XXIII/GLW/T/J.VI
XII.II/GLW/PB/DS
II.VIII/AYR/PB/J.VI & F.D
II.IX/AYR/PB/F.VII
IV.IV/GLW/PB/MW.III & F XLIII
Community content is available under
CC-BY-SA
unless otherwise noted.