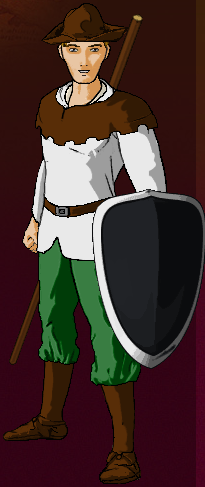 Dirty
Born: Dec. 03 2007
Country :Kingdom of Scotland
County:County of Galloway
Town :Kirkcudbright
Affiliates: Froggi
Level: 3
Reputation Points: 218
Profession: Weaver
1st Field: Sheep
2nd Field: Corn
Role Play description
Edit
The sound of surf is the first thing I heard, then the pain in the back of me skull pulsed with my beating heart. Cracking my eyes I was blinded by the sun. "Where am I? How did I get here? Where is my family?" I thought. Then blackness... I awoke in a small room where a priest looked over me. My wounds had been tended however, I was still sore. The priest spoke and I soon discovered that I had washed up on the shore of Scotland near Kirkcudbright and a fisherman brought me to the church. I have no memory of my life before other than my mother and daughter...
I have had a horrid vision: My daughter Coliepolie8, weak, frail and starving. An angel desends from a pure white light and carries my daughter into the sky. Is it true? Can it be? I must find my daughter...
Dirty, Brave son of Froggi, Proud father of Coliepolie8.
Journeyman of SOW Guild
Member of New Members Mentor Guild
Member of Scottish Mentor Guild
Kirkcudbright Mentor (Emeritus)
Member Cartography Guild
Cartographer of Kirkcudbright
1st Spokesperson of Kirkcudbright Public Committee
Mayor of Kirkcudbright
Community content is available under
CC-BY-SA
unless otherwise noted.