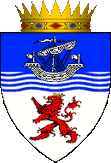 The Devon Navy is the official navy of the County of Devon in the Kingdom of England, also known as Devonshire. The Devon Navy thus acts under the Duchess Katelynn of Devon who rules out of Chard, and her council of NPA (No Political Agenda) and NEP (National English Party) members. It is thus the de facto ducal navy of Devonshire.
The Devon Navy acts as a major part of English naval power being given the duty of coast guard and if necessary offensive amphibious warfare on the waters between the Kingdom of England and Kingdom of Ireland in Devon's vicinity on the southwestern coast.
The Devon Navy has engaged is several naval engagements, notably when the HMS Glorious, Captain Arkrantos & HMDS Ferocious, Captain Mok, engaged and sunk the War Cog Sea Beggar of the NNGO fleet at Lands End.
This location has led the Devon Navy to engage in the first battle of the new war between the Kingdom of England under King Hezlog against the forces of NNGO under Anto_Capone and his Celtic Alliance and Fury allies who occupy the Kingdom of Ireland while waging war with the Montemayor family for supremacy in the Kingdom of Scotland. This led the high-tech NNGO fleet to surprise attack the Devon Navy, which had older ships(?? impossibility, please elaborate.). In the midst of the ambush some losses were taken on the Devon Navy side with casualties recovering in Barnstaple, as the Kingdom of England and especially the County of Devon began massive homefront and warfront war preparation with zeal.
The Devon Navy is thus rebuilding and preparing itself for further warfare now officiated in a declaration of war to achieve the goals of England and to promote the destruction of the NNGO and CA organizations while upholding security and safety in the waters of the County of Devon.
Community content is available under
CC-BY-SA
unless otherwise noted.