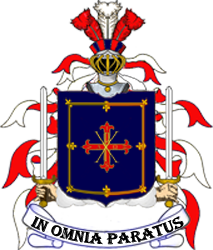 Constantinian Chivalric Order of Saint George
also known in Albanian
Urdhëri Shenjtë Kalorsiak Kostantinian i Shën Gjergjit
or shortly just as
"Urdhëri" (The Order)
was founded on 29 April 1457 by Lukrezia Augusta Zaharia Engjëlli Duchessa of Zadrima the current queen of Kingdom of Albania.
The symbol of Order is a red cross on a blue field. The official motto of The Order is "IN OMNIA PARATUS". Their unofficial motto, which is as well known as official one is "PRO PATRIA VIGILANS".
The Order is best known for protecting their homeland Kingdom of Albania, in times of troubles and threatened by rebels. The biggest war was against Albanian-Italian groups "Black Eagles" and "Ordine Brigante".
The Order had two grandmaesters in all known history of its existence, Dama Lukrezia Augusta and Count Leka Dukagjini. The last one wasn't never a member of Order but after the false proclaimed death of Lukrezia Augusta she said in her testament that she left command of Order to Leka Dukagjini and asked him to bring back glory to Order. And since that time Leka Dukagjini is grandmaester of Order, he didn't make a declaration to return the command to Lukrezia Augusta after she is returned to Albania.
The greatest victory of Order was against the war with BE-OB that started in Albania, town of Lezhë on March 1459 and ended on May.
In the beggining of the year 1460, The Order shows his power on sea by destroying three ships of enemies with their biggest ship named Redon a.k.a "Dragon of Adriatic". On the same year, at March, Queen Lukrezia Augusta deployed with her army in city of Lezhë and attacked rebels together with other army of the Order leaded by Leka Dukagjini. On 21 March 1460, rebels surrender and were defeated and the Order arrives another victory.
Now Constantinian Chivalric Order of Saint George is one of the strongest military order in region, they have treaty with Principality of Kastrioti to protect the county by any dangerous groups or country. Also the Order has a treaty with Principality of Kastrioti to finance them and a treaty with Republic of Venice which give right to buy warships from them.

The Heraldry of The Order:
Community content is available under
CC-BY-SA
unless otherwise noted.