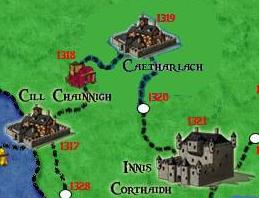 Ceatharlach (Carlow; in English, Four Lakes) is a lake town in Laighean, Ireland.
Government
Edit
The first elected Mayor was Valefor, followed by Sephrenia. Current mayor - Puppyluv
Head mentor - Grian
During the upheavals following the issues surrounding the neighboring An Mumhain, Laighean County Council, and the organization ONE, Ceatharlach was peacefully taken into the county An Mumhain.
This was a move that was very heavily disputed in Laighean council and in the town itself, dividing up the town into several factions, and leading to the resignation of Valefor after his set term.
In August 1457, Ceatharlach voted and has since returned to its home county of Laighean.