Template loop detected: Template:Battle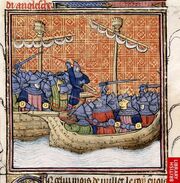 Bideford Bay was a naval encounter located in such mentioned bay, in over 40 ships involved, making up one of the biggest battles that ever raged in history. The Celtic Alliance won it and England, even with the aid of Domaine Royal France, the most powerful kingdom of Europe, lost it. They intended to ambush the celts, who were ready. Even if England lost, they only saved themselves from a landing, that would still come in the future, leaving the country vulnerable.
Following a list of the ships that were lost in the conflict:
Losses of the Celts: (10)
War Cogs:
1: Regent Slayer (Known to be the main ship)
2: Annihilator
3: Snozberry
4: Blackbeard's Burp's Revenge
5: KoW Out Damned Spot
6: KoW KoW Temperate and Furious
7: KoW Sleep No More
8: KoW Rough Night
9: LN Molly_rose
Barges:
10: Wave Runner


Losses of the English: (20)
War Cogs:
1: Lady of Milk
2: HMDS Ark Royal
3: Veni Veni Venias
4: Dies Irae
5: Fama Tuba
6: Black Esthar
7: Pride of Faheud
8: Celestia's Star
9: Aletto
10: HMS Triton
11: HMDS Intrepid
12: Pride of Sussex
13: Lextasy
14: HMDS Fearless
15: HMS Oceanus
16: Mystic Lighting
17: The Terrapin
18: HMS Siren's Song
19: HA Praetor
20: HMDS Glorious II
Community content is available under
CC-BY-SA
unless otherwise noted.