Bristol is the capital city of Devon, Kingdom of England. It is known for being a very quiet hamlet, but often a friendly local or a traveler can be found in the tavern. During times of War, Bristol is a prime hangout for soldiers marching to or coming back from battle as well, as the detachments of soldiers usually sent to protect the Capital.
Location
Edit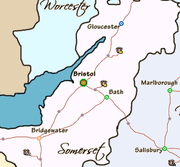 Bristol is located in west-central Devon, with roads leading north to Gloucester, southwest to Bridgewater, and east to Bath.

Bristol sees a lot of traffic from travelers and traders passing through town to other destinations, due to it's central postion in the western side of Devon

This forest capital of Devon benefits greatly from its location between the orchard town of Bridgewater and the fishing port of Gloucester. However, it is heavily reliant on traders to bring needed goods for its citizens' consumption.
Resources
Edit
Bristol is a wood town. It shares access to two gold mines, located on the roads to Bath and Gloucester.
Amenities
Edit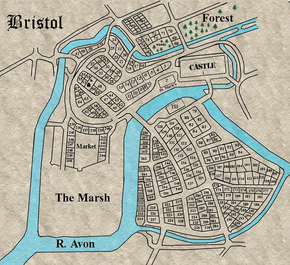 Taverns
The Rising Sun - Owned by the Town Hall, bartender is FateofDreams.
The Cat and The Fiddle - Owned by Mairead, bartender is Lily.mcclaren.
The Weaver's Shop - Owned and tended by Penny12.
Culbone Infirmary - Owned and tended by Treena.
Shops & Workshops
Allikath
Lucy Lawlesst
John_fitzrobin 3 terms
Drouin 4 terms total
Lucy_Lawless
Patan
Lucy_Lawless 4 terms
Merrick
Taurjack - one term
Revandenizen - two terms
Galinzu - three terms
Aris - three terms
Zebarc (deceased in office/partial term)
Pothath (deceased in office/partial term)
Naija
Ladylilyfeilds
John_Fitzrobin
Community content is available under
CC-BY-SA
unless otherwise noted.