Barnstaple is a growing town in Devon, England with a busy port and an expanding economy. Many people from Barnstaple are active in town and county politics and often end up working in town and county councils. The town is located near the River Yeo. Chris Braveheart was the first Regent and Prince from Barnstaple.
Port of Barnstaple is a Naval shipyard (Level 4 port) that has been fully expanded on April 15th of 1464. The port has 15 available berths for any visiting vessels.
Harbourmaster of Barnstaple is Kylonaa.
ResourcesEdit
Barnstaple is a forest town. It has access to an iron mine to the east, and a gold mine to the southeast.
CommunityEdit
The Barnstaple community is considered one of the most active of the Kingdom of England. The city is vibrant with activity and business. Offering five or more taverns - including the famous King's Knickers Tavern run by the Town Hall - there are multiple locations for gathering and socializing in Barnstaple. The local market benefits greatly from active population as well as travelers and traders. 
The town has grown in political promience recently; formally a seat of the National English Party, Barnstaple regularly has residents running on the No Political Agenda or Devon Coalition for County Council, though many are independant candidates without true party affiliation.
Elerian
Elerian
Renolara (deceased)

Elerian

Kerli
Notable Townsfolk, Past and Present
Edit
AmenitiesEdit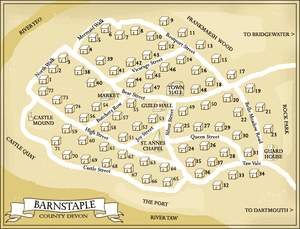 ​

Shops & Workshops

Edit
The Devonshire Tea Emporia, Edith's bakery

Farsian's Forge

Elerian's Forge
Community content is available under
CC-BY-SA
unless otherwise noted.