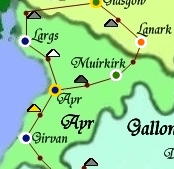 Ayr was the second county to be opened in the Kingdom of Scotland. It was opened for colonization in November of 1455. It shares borders with the counties of Galloway and Glasgow. The county of Ayr is now closed and is survived by the town of Girvan which resides in Galloway.
Julius Octavius attempted to annex Girvan to Galloway in early 1457. After being independent for a few days Girvan was returned to Ayr by the RSA and Dominiceco.
On the 15th of April 1458, after defeating Ayr's army outside the Stone Mine between Glasgow City and Largs, a fury army led by Tosher MacGregor Stormed the Castle of Ayr City and took over the County Council. They promptly declared the Royal Burgh independent of any ruler other than the King of Scotland and the Count of Ayr and ordered the return of all Grants issued by Ayr Council.
On the 16th of April 1458 the King of Scotland cancelled all grants issued by former Ayr Councils, as requested by the new Council.
After the pillaging of the capital Ayr was left with no stone or iron to run their mines. Mines were closed for nearly two months while a volunteer council took over donations and helped to bring the county back online.
The population is down and yet people are now moving to Ayr County to start a new age of prosperity.
In January of 1459, The Castle of Ayrshire was taken by a group of citizens, combined of future created group Saorsa Na Fairge and kinsmen from the Clan Campbell. It was a strategic strike to allow Lord Protector of Galloway, Julius Octavius's army to finally take and annex the town of Girvan into the County of Galloway. Sacking the castle, Saorsa Na Fairge went on to steal the Campbell take in the castle plundering while the Chief was busy annexing the town.
Towns of Ayr
Edit
Books in the University
Edit
Community content is available under
CC-BY-SA
unless otherwise noted.