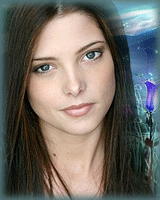 Anyamariee Hollington von Liechenstein.
Anyamariee Hollington was very happily married ... or so she thought, until one day after returning home with some bread and her change, she found a note from her husband advising he'd run off with the very young gypsy lady who was selling chickens. He'd taken what was left of their food and savings and had sold the house.
Finding herself with no where to go, she found a small shack in Dover and began to rebuild her life. After working hard at various jobs throughout the town and saving, she was able to buy a corn field, a nice, cozy little home at 32 Third Comb, and found friendship with many while visiting in the taverns.
She is grateful for what she has been able to accomplish on her own, and is eager to find what her future has in store.
Anyamariee has recently been able to buy her second field and is fishing quite regularly. Wanting to be part of the Dover Fishing Fleet, and with the help of a great friend, she decides upon "The Merman's Barmaid" for her first boat.
While working at the Mysterious Cliffside Inn, a girl who was the mirror image of herself walked in. Comtessa was her name, and by chance, nay, fate, they discover they are in fact twins. A parchment was located verifying those very facts, but the rest of the story was a mystery.
Being fortunate enough to travel through most of Sussex with Plotnik, she has discovered she has found her heart's desire, and loves him completely.
Very sadly, in November of 1457, she lost her dear sister. She helps her brother-in-law, Wolfaxe Vanderzee take care of their child, Keyra, and only hopes to be as good an aunt as her sister was a mother.
On January 22, 1458 she was honoured with the title of Baroness of Meeching. She declined since she felt she did nothing to deserve it. After much thought, she finally took the oath on January 30, 1458, swearing to Jah and herself to live her life in order to earn the right, and the title. She later took the English Oath on February 11, 1458, changing it back to the Baroness of Hythe.
Sadly, her brother-in-law, Wolfaxe passed away suddenly from horrible injuries on June 14, 1958. Committed to helping helping Sussex and following Jah, she and Plotnik were baptized by Archbishop Faheud on June 15, 1458.
After fighting in Carlisle and spending time in Scotland, Plotnik finally allowed Anya to head to Ludlow so she could marry him by their dear friend, Priest Reynard Deekay. They were happily wed on November 6, 1458.